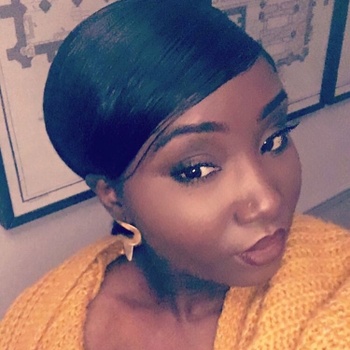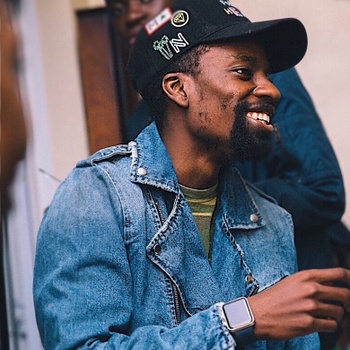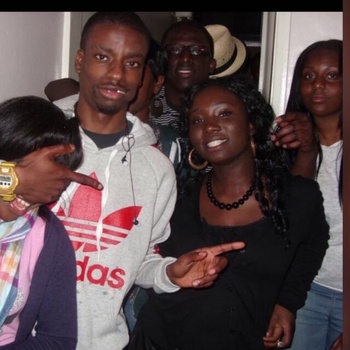 I do remember the day I met Deji but tbh I don't remember much about our communication after that. I know we added each other on Facebook and spoke a few times but that was about it.

We had a mutual friend that we were both really close to at the time (the same friend who introduced us to each other) so whenever one of us would go to their house, the other would be there. I think that's where the friendship started to grow. There was endless amount of banter, good food and insightful conversations. We became genuine good friends.

At the time my focus was on other things so seeing Deji as anything but a friend was not even in my thought process. I'm pretty sure the same went for him. 

It was like this for probably 2 years or so. I remember in his final year we hung out more as I was fairly close with his housemates. The group of us would go cinema quite regularly. I lived further out from everyone else, so like the gentleman Deji is, he would always walk me home. I guess you could say our deeper conversations and getting to know each other on another level started from there. 

I honestly don't remember where the conversation stemmed from but if you've ever witnessed Deji and I banter you can visualise how this dialogue went and how unserious it would have been. Deji and I went back and forth about food and cooking so he asked me to cook and I said "yes, let know when you're ready" but didn't think he would actually follow through. He followed through! I kept to my word and invited him and his housemate Dami for dinner. I made jollof with stewed meat and if you know you know!! Deji came back for more!!!

It came to Deji's graduation and I was really really  proud of him. I might have been a tad bit over excited but I remember all the talks we had in regards to his degree, goals and vision for the future so to see him finish with a 2:1 as well as winning an award brought joy to my heart. I admit, I behaved like a groupie and watched his graduation live but it was an achievement worth celebrating. We went out to celebrate his graduation and I guess this is where the story really begins.

In all honesty I didn't expect to see Deji often considering I still had two more years left in uni but I knew for sure he would be a friend for life. I am a firm believer that he 'strategically' left his Raybans in my handbag the evening we celebrated his graduation. The following week I had a three day church programme in Wembley which was round the corner from his house. He came to meet me up, hung out with some of my friends stayed for the programme and even came back the next day with his mum. From then on we practically hung out every weekend

September came and I returned to uni. Deji came to see me in Portsmouth, took me for a walk near the beach, told me his intentions and here we are almost 7 years later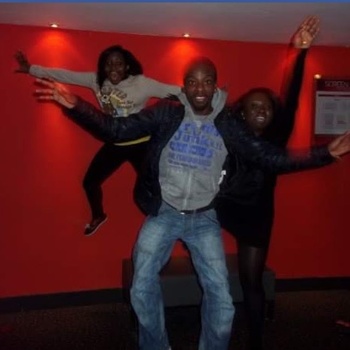 I first met Deborah back in 2009. We were introduced by a mutual friend at a birthday party. We spoke for a bit, exchanged facebooks as you did at the time, and went about our business.

Well if you think that me and Deborah going back and forth sending for each other is a new thing, please see my Facebook status' back in '09. The insults in the comments were flying and we would go back and forth for hours until the other person forgot to respond, but I guess they say love never changes lol.

We remained good friends at uni from a distance but I noticed towards the end of my final year things changed a little. If you ever know Deborah she is the queen of one word responses on instant messenger. Her favourites are yeah, lol and kk and that will be the conversation dead. However one day in spring 2011, Deborah had given me one of her usual one worded responses but just as I was about to exit the app, for the first time ever I see 'Deborah is typing'. I was shocked!!! Deborah actually revived a conversation for once! I knew from that day that we were actually becoming good friends.

During my final months in uni Deborah showed a big interest in my final grades and dissertation and was one of the first people I ran to when I received my final result. Our friendship was so close that Deborah even watched the live stream of my graduation ceremony. By this time Deborah was my one of my closest and best friends.

We spent the whole of summer together, either on the phone or her coming down to North West London or me catching flights down to Croydon lol. However during the summer break it became apparent that we more than just friends and I'm not going to say who said who liked who first as it is controversial ;-), but we both came to the understanding that there were feelings there on both parts.

Here's were I get soppy lol. I saw qualities in Deborah that I admired and loved, and I knew with whoever I dated next I wanted to be intentional and with Deborah I couldn't be anything but intentional. With her Godly nature, her kind personality plus the fact she was a peng ting, I made intentions clear at the end of the summer and you know what 7 years later here we are!!!!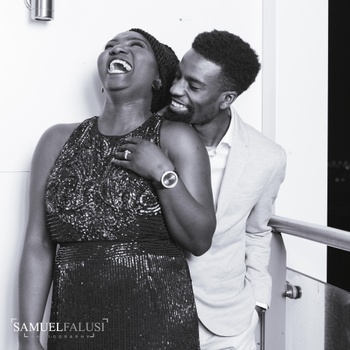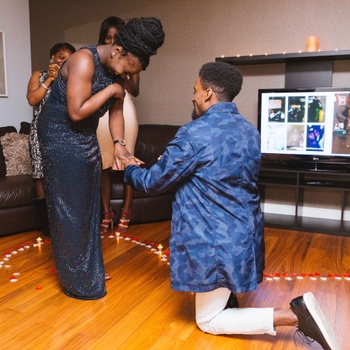 When it comes to birthdays; it's tradition that we don't hold back. Our birthdays are 3 days apart and it's almost like a mini competition on who can throw the best surprise lol!!! 2016 was no exception. 

If you know Deji, you will know that he has been working towards getting his ACCA qualification. This particular year his exams were very close to my birthday and as I had already booked us a group trip to Iceland; the compromise was to celebrate my birthday after his exams. He promised to make it up to me and that I will be shocked (little did she know what he had up his sleeve).

When the Saturday we chose to celebrate my birthday rolled around, he came and picked me up early in the morning with no information of the day's plan or even the destination. He gave me simple instructions which were to not wear makeup, to pack swim wear, day wear and evening wear. I obliged. After about an hour into the drive, I kept noticing signs directing to Portsmouth. I quizzed him multiple times on whether we were going to Portsmouth, he did not appease me and remained silent. Annoying!
But as I suspected, the car came to a stop and "ta da! We were in Portsmouth". Hmmm.

He planned a lovely spa day for me which included a full body massage and facial. Yet as grateful and happy as I was, my inquisitive nature was not satisfied and I wanted to know what was wrong with the multitude of spas in London. Why Portsmouth? Of course, he gave no answer. Really annoying!!

In the evening, he took me to a nice intimate restaurant right by the spot where he had made his intentions known 5 years prior. Picture: a 5 star, 7 course candlelit dinner and no more than 20 tables; it was truly romantic.

However, he disappeared during our romantic dinner for about 20-30 minutes and suspicion started to kick in. When he returned, I thought maybe he would be coming back with loads of people, instead he came back with gifts and a cake which he had been hiding in the car. Lol, I couldn't complain; who doesn't like gifts?

We then went for a walk, just as we did on 30th September 2011, along the sunset beachside talking and reminiscing. It was all cute and movie worthy till I started complaining that my feet were hurting; heels are just for pictures!!!   

He got us a cab, which I assumed would be taking us back to the car. It did not. The cab drove us to Gunwharf Quays instead. By this point, I'm full and merry and the night was good; what more could he be up to? We arrived at these set of apartments opposite the Tesco at the entrance of Gunwharf. 

Just imagine the expression my face!! CONFUSED.COM

Deborah: "Deji, why are we here?"
Deji: "There's a house party"
Deborah: "But I don't want to go to a house party"
Deji: "We won't stay for long, come on, trust me!" 

We rode the lift upstairs, 7th floor I believe and a door slightly ajar but there was absolute silence. No sign of any house party!

Deborah: "What on earth is going on? WHY ARE WE HERE?!"

Deji opens the door, there's a pathway of rose petals to the front room, somebody's phone (hidden) was recording our entrance. We barely made it into the front room and the first face I saw was Selasi's. 

Deborah: "Why is Selasi here?"

We entered the front room, candles everywhere, heart shaped petals in the centre, by this point I knew exactly what was about to happen. Deji was trying to figure out where the ring was hidden while I stood there lost for words. "I have one more gift for you" he said. Then one by one my close family and friends started to enter the room and encircled us as he proposed.

17.12.16 - The day I said Yes! (Only took him 5 years!!)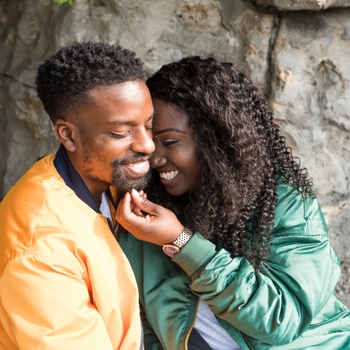 What was your first impression when you met each other? Did you ever dislike me?

Deborah: Honestly, I don't remember. I guess I thought he was quiet - that was a lie !!

Deji: I thought you was cool. Very personable person. We were very similar in that we loved to mock each other, and not no when to stop lol. Only thing I disliked about you at the beginning was that you was kinda rough lol. I remember at a mates birthday we were both at you dug your nails into my neck lol for why I dunno lol. I still have the scar marks there. I guess you was marking your territory from early ;-)

How did you know each other was the one?

Deborah: Prayer of course. When this was starting to look serious, I remember praying earnestly. I wanted to know from God if Deji was part of the plan he had for me. I remember getting the peace. There had been other guys in the past and I remember when I had prayed about them, I always got an unsettling uncomfortable feeling. Obviously they didn't work out but with Deji, this time it was different.

Deji: I'm not really a firm believer in the 'one', but as in how did I know Deborah was for me, was firstly she is a believer. Deep rooted in Christ which first attracted.  I love Deborah's  caring nature. She has this tendency to put others before herself and I've seen her do it time and time over again. I believe I have a lot to learn from her. Finally she is extremely driven, and constantly motivates me when I've ran out of ideas. 

What's your favorite memory of me?

Deborah: Probably our first trip to Paris. Although I had been on a plane from Nigeria to UK at the age of 4, I didn't remember the plane experience. For my 21st I had been saying I'd love to go to Paris so he booked us a day trip there and instead of taking the Euro star he booked us flights there and back

Deji: Is it fair that I have 2? Apart from the proposal, I would have to say your 25th day and the day I bought you your first Michael Kors bag. Both reactions were priceless :'-D

What's your favourite thing that you do together?

Deborah: If you've watched my snapchats/instastory you'll know our car journeys are the best journeys lol

Deji: Our usual chill out music session, when we dive into our playlists, whether its old school rnb or Disney classics, and we reminisce of how good music used to be.

Where did you do on your first date?

Deborah: Lol did we have a first date..

Deji: Officially we never had a first date lol, but unofficially off the record was probably JRC (formerly known as Cosmos) in Croydon

What are looking forward to the most about your wedding?

Deborah: Celebrating with family and friends, especially those who have been on the journey with us.

Deji: Getting married! But also the festivities that go with it including the reception, celebrating with family and friends, and of course the food!

What are looking forward to the most about the future? 


Deborah: How God will use our union to bless others. Already the same prophecy has been said to us by different people so clearly God is at work. Our key prayer point has always been when people see us and see the way God has blessed us and what He has done for us, they will see Christ and they will want to know Christ.   

Deji: Plans that God has for us. I mean there is a whole lifetime of greatness ahead but I'm not going to jump the gun with all that talk yet! I'm looking forward to travelling the world, discovering new things together. It's just the start of our empire!

Any final remarks?

Deborah: Bring on #FuJi18

Deji: Let's Get it!!!!